A Hotelier's Journey: Choosing the Right Hotel Management Solution

On a very beautiful sunny Wednesday we sat down in the cozy dining area of the BnB 't Ambacht and talked with Jeanette Leenders, the hotel manager, about their journey with Noovy.
This lovely establishment was previously a bakery that has now been transformed and repurposed as a bed and breakfast. It's located in the Netherlands, close to Rotterdam and the UNESCO World Heritage Kinderdijk.
Jeanette began her search for the perfect hotel management system early in 2022. After speaking with several system companies, Noovy stood out due to our personalized integrations and exceptional customer support. She appreciated our willingness to go the extra mile to meet the specific needs of her BnB.
As a former employee of big hotels in New Zealand, Jeanette knows the frustration of encountering system issues and not being able to get in touch with customer support. With Noovy, she feels looked after, as there is always a dedicated Support Manager who knows the details of her business and exactly what solution works.
"Seeing the willingness to go an extra mile, because even though we're a really small property, it makes us feel like we are taken care of. The big plus is the customer support, their communication and follow up. That's what I really appreciate."
One of Jeanette's most preferred features of Noovy is the Online Check-in, which allows guests to check themselves in, especially helpful for late check-ins.
Another feature that she loves is the ability to send messages to guests. It automatically sends emails to guests with relevant information throughout the guest journey: prior, during and after their stay. This has saved her an hour every day, so now she has more time to focus on providing exceptional service.
"Having to manually fill in email layouts everyday, for every single confirmation, it's very time consuming. Being able to have this process automated saves us a lot of time that we can now spend getting to know our guests."
Ultimately, Jeanette's "cannot work without" feature is the Room Calendar, which provides a great overview of their BnB's specific needs. With six rooms but only four allowed to be rented at a time, availability and flexibility are crucial. The Room Calendar, with the Drag & Drop and Out of Order functionalities, allows her to plan housekeeping, manage occupancy, and easily make bookings directly from the calendar.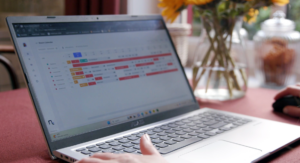 Noovy's Booking Overview is another favorite functionality that Jeanette finds very user-friendly and time-efficient. She can see all the details of each individual booking, navigate between billing and balance information, rooms, guests, and more.
Noovy's conversion driven Booking Engine helped Jeanette see a 40% increase in Direct Bookings.
Overall, Jeanette is thrilled with her experience with Noovy and highly recommends our solution to other BnBs. The personalized integrations, easy-to-use features, and exceptional customer support have made her experience a breeze. With Noovy, Jeanette can focus on what really matters, getting to know her guests and providing them with an unforgettable stay. 
We wish her and her team all the best and can't wait to see what the future holds for BnB 't Ambacht.
We recommend the following customer success stories for you